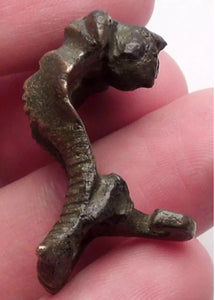 100-300AD Authentic Ancient Roman Bronze Fibula Brooch Artefact circa.
Item : i56154
3.5 x 1.8 x 2.4 centimeters (16.16 grams) Material: Bronze
Ownership History: From private collection in the United States, bought in  private sale in the United States of America.
You are buying the exact item pictured,  provided with a Certificate of Authenticity and Lifetime Guarantee of  Authenticity.
A Fibula (Latin  "to fasten") is an ancient brooch.  Technically, the Latin term fibulae refers specifically to Roman  brooches, however, the term is widely used to refer to brooches from the entire ancient andearly medieval world. Unlike modern brooches, fibulae were not only  decorative, they originally served a practical function: to fasten clothes, including cloaks. Fibulae  replaced straight pins  that were used to fasten clothing in the Neolithic  period and Bronze Age. In turn, fibulae were replaced as clothing fasteners in the  Middle Ages by buttons. Their descendant, the modern safety-pin, remains in use today.
There are hundreds of different types and variations of fibulae. They are  usually divided into families or groups based on historical period, geography  and/or cultural grouping. Fibulae are also divided into classes based on their  general forms.

What is a certificate of authenticity and what guarantees do you give that the item is authentic?
Each of the items I sell are provided with a Certificate of Authenticity, and a Lifetime Guarantee of Authenticity, issued by a world-renowned numismatic and antique expert that has identified over 10000 ancient coins and has provided them with the same guarantee.
You will be quite happy with what you get with the COA; a professional presentation of the coin/antiquity or Artefacts with all of the relevant information and a picture of the the item you saw in the listing.
 return accepted 14 days. Worldwide postage available.
I  
I buy from private , experts , traders and professionals . Some certifications you have to request I don't tend to bother as I know their genuine. N you can certify them your self quite cheaply etc
Returns accepted. Worldwide shipping available 
Please feel free to view my other items. I have a fine collection. Many thanks for looking.