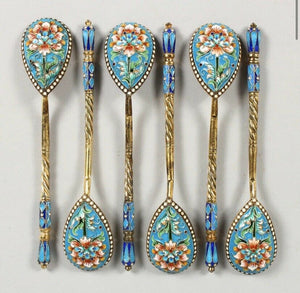 Please note it's taken me 4.5 years to source 4 sets of these Russian Spoons. I've sold one set within 6 weeks of owning them . I collect them but they are hard to come by.
This set and 2 cased set left
Description
6 Russian Silver and enamel Coffee spoons.
Set of six Russian cloisonné enamelled spoons in silver (84) gilt, the reverse of the bowls are decorated with a floral pattern
Date
c. 20th century
Length
Approx 5 inches
Hallmarks
84 Zolotnik which equals 875 (or 87.5%) millesimal fineness
Extra notes
These are beautiful Cloisonné enamel spoons but the enamel looks to be 1st half of 20th century. There are no stamps of the master or assay master so it is very likely that the spoons are not earlier, around 1900.
In Galleries, enamel spoons from the 1st half of the 20th century are experiencing high prices.
The craftsmanship and quality of the spoons is just Devine 💪🔥
Returns & Shipping
Accepted within 14 days at the buyers expense due to value of items. Worldwide postage available