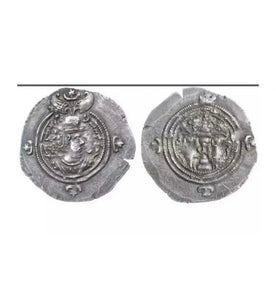 Description
A Sasanian King, Khusru II Silver Drachm, dated (A.D. 590-628)
OBV, bust to the right with crown, name in outer margin, rev fire alter with attendant's. (c.f sell wood 65,gobo 212,m212, m1141)
Note
Purchased at UK Auction so no certification like other coins with it. 
Condition
its in good condition but the face on the front is worn more than the picture for ID purposes the twin photo. So its not super fine id describe it as a coin in good condition that not been cleaned or holed. Its a nice example happy having it in my collection.
Returns accepted at the buyers expense 14 days  Worldwide shipping available.