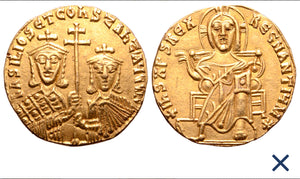 Description
Basil I 'the Macedonian' AV Solidus. Constantinople, AD 870-871. + IhS XPS REX REGNANTIЧM*, Christ, nimbate, seated facing, wearing chiton, raising hand in benediction and holding Gospels / bASILIOS ЄT COҺSTANT AЧGG b, crowned facing busts of Basil, with short beard and loros, and Constantine, beardless and wearing chlamys, holding patriarchal cross between them. DOC 2; Sear 1704. 4.05g, 19mm, 7h.
Grading 
Extremely Fine.
Provenance 
From the inventory of a UK dealer. Purchased through auction in 2019. 
Returns accepted 14 days. Worldwide shipping available.