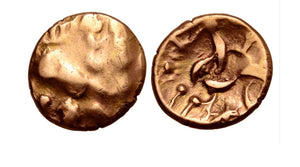 Description
Britannia Celtic  the Corieltauvi AV Stater. Vepo- (?), circa AD 15-40. Wreath / Lunate horse with triangular head, pellets before, star below [VEP] above. ABC 1851; Van Arsdell 905; BMC 3274-75. 5.50g, 18mm.
condition 
Good Very Fine; weakly struck. Extremely Rare.

From a private British collection.
Weight 5.5 grams 
Returns accepted 14 at the buyers expense fully insured. Worldwide shipping available.