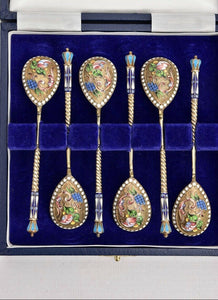 Valuation completed price increased but 2 interests who would like to visit can have then at original price prior stated.
1 week time frame to visit before price remains the same
CASED SET OF SIX RUSSIAN SILVER GILT TEASPOONS,.
the spoons with cloisonne style enamel decoration to the handles and reverse sides of the bowls, both sets stamped 84 mark Moscow , Russia and with indistinct initials,
Weight
weight are 77.6 grams, 2.49ozt or 85 grams, 2.73ozt 2 sets so don't know the weight until they arrive
Condition:- generally in superb condition, all around
provenance
Biddle & Webb 22nd June 2012 lots 129 and 140 from the sale of The Estate of the late Miss Margaret Davis)
Date
Circa Late 19th / Early 20th century
Returns and shipping
14 days returns at buyers expense. Worldwide shipping available.