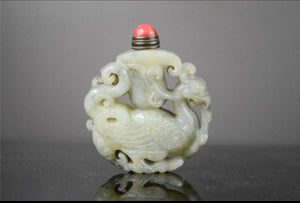 Valuation reference
V623531-86
Guarantee line
A Chinese jade snuff bottle.
Description
Of overall circular flattened form, carved and pierced as a recumbent bird supporting a vase on his back, the plumage accentuated with incised markings, silver and domed coral stopper.
size
Awaiting delivery guessing 9cm will include more photos once arrived and full size.
Date
Second half 19th century. Circa 1850-1899
Extra Notes
Snuff bottles were used by the Chinese population during the Qing Dynasty to contain powdered tobacco. Smoking tobacco was illegal during the Dynasty, but the use of snuff was allowed because the Chinese considered snuff to be a remedy for common illnesses such as colds, headaches and stomach disorders. Therefore, snuff was carried in a small bottle like other medicines. The snuff bottle is comparable to the snuff box used by Europeans.Snuff bottles were made out of many different materials including porcelain, jade, wood, tortoiseshell, metal and ceramic, though probably the most commonly used material was glass.
Returns accepted 14 days
Worldwide shipping available