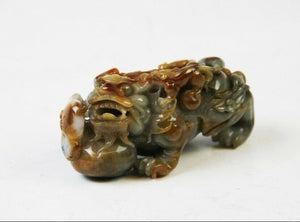 Valuation reference
V623531­120
Guarantee line
Jade foo dog.
Description
Stunning Chinese carved nephrite/jade foo dog 10 cm long, the creature is carved in a striated green/brown stone with its paw on a globe.
Date
20th century.
Condition
Perfect condition pristine example
Extra notes
This was carved in China for the export market.
The history of jade is as long as the Chinese civilization. Archaeologists have found jade objects from the early Neolithic period (about 5000 BC). Jade metaphorically equated jade with human virtues because of its hardness, durability, and (moral) beauty. Chinese people love jade because of not only its beauty, but also more importantly its culture, meaning and humanity, as Confucius (551 BC ­ 479 BC) said there are 11 De (virtue) in jade. Furthermore, because jade stands for beauty, grace and purity, it has been used widely thorough Chinese history as one of the main materials for works of art, a translucent stone worked into ornaments, ceremonial weapons and ritual objects. Jade was worn by kings and nobles and after death placed with them in the tomb. As a result, the material became associated with royalty and high status. It also came to be regarded as powerful in death, protecting the body from decay.
Returns accepted 14 days buyer responsible for returns due to high value item.
Worldwide shipping available