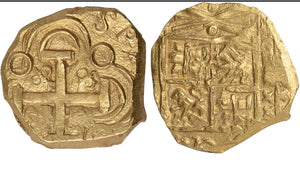 Valuation reference
V623531-30
Guarantee line
Colombia, Philip V (1701-1746), cob 2 escudos, undated, Bogota, crowned shield of arms, rev. cross in quatrefoil.
Off the 1715 fleet Nuestra Señora de la Cruz wreck and sold through Christie's auction house previously in 1987.
weight
6.82gms.
Date
1700-1715
Extra Notes
*ex Christies, 14 July 1987, lot 179
Provenance of the Coin
Recovered from the wreck of the Nuestra Señora de la Cruz, one of the ships of the 1715 Plate Fleet, which was returning to Spain from Havana, Cuba, in July 1715. Seven days later eleven of the twelve ships in the fleet were wrecked in a hurricane off the coast of Florida with the loss of about 1000 lives.
*ex Christies, 14 July 1987, lot 179 and I obtained it through a London Auction in 2017.
Condition
easy EF ! Shipwreck coins get graded differently the evaluation comes in as Well Preserved in excellent condition for a shipwreck Coin
It's a well-preserved piece (especially for a shipwreck coin), struck a bit off-center (very typical for crude cobs) and really the only detriment is that a clear date doesn't show due to the off-center strike (though we can assume the date is 1700-15).
Returns accepted no problem the buyers full responsibility for return shipping insured.
Postage worldwide free available fully insured courier clearly and any returns ! the buyer is fully responsible to insure fully insured postage courier
Returns cost £500.00 it cost me £500.00 to send it to the buyer internationally
I can deliver within the UK for a small fee
Please note the coin is sealed in a professional auction sleeve for the protection and enjoyment of the collector !
Do not break the sealed coin if you plan on returning it or returns won't be accepted important note !
Important point this is a rare and sort after piece! That I wouldn't sell unless I got the full price. It's a gem of a collectors piece n so can stay in my collection for life. I'm building my own empire 30+years so all I do is buy invest , sell to upgrade not for income.