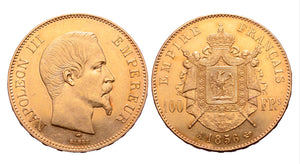 Description
France, Napoleon III (1852-1870) AV 100 Francs. Paris, 1856. NAPOLEON III EMPEREUR, bare head right; hand above BARRE below / EMPIRE FRANCAIS, coat of arms; denomination across fields, date below, A in lower left field, anchor in lower right field. Edge inscription: DIEU PROTEGE LA FRANCE. KM 786; Friedberg 569. 32.19g, 35mm, 6h.
Weight 32.19 grams/ 1 ounce.
Condition
Extremely Fine; small scratches to obv
Provenance
From the inventory of a European dealer.
Returns accepted fully insured buyer fully responsible for return of the item 14 days !
Shipping worldwide no problem