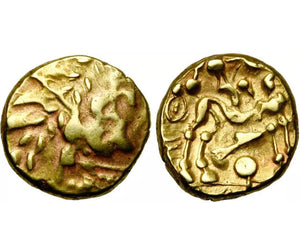 ( Valuation reference) V623531-33
My evaluations n appraisals come from the best in the business ex Sotheby's.s n Christie's https://www.valuemystuff.com/en/home
So you know in advance its not Micky mouse evaluations on my items and the real deal👍🤩
Description https://en.m.wikipedia.org/wiki/Belgae
GAULE BELGIUM, Ambiani, AV stateroom, 80-70 BC Biface type.Class IV.
D / T. distorted to d., With a broad crown, the profile formed of two croissants. Below, lines and dots on the garment. R / Horse to d. surrounded by globules. For example, a wolf-toothed line with pointed triangles. Scheers, Treaty, 89; Van Arsdell 46-1; L.T. 8603; DT 161. 
Weight 6.38g.
Beautifully struck 
Grading - Very Fine
Provenance
Purchased through auction in Brussels by me prior to that a private collector.
Returns
Accepted within 14 days buyer responsible for fully insurance postage return at their cost.