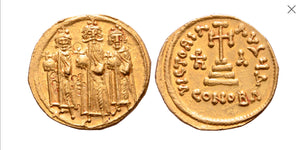 Heraclius, with Heraclius Constantine and Heraclonas AV Solidus. Constantinople, AD 610-641. Heraclius standing facing, with Heraclonas to left and Heraclius Constantine to right; each wears crown and chlamys and holds a globus cruciger / VICTORIA AVGЧ Δ, cross potent on three steps; monogram in left field, A in right field,CONOB in exergue. DOC 39; MIB 45; Sear 764. 4.44g, 19mm, 7h.
Condition
Near Extremely Fine.
Weight
4.44g
Provenance
From the inventory of a German dealer. Obtained through UK auction in 2019
Returns accepted 14 days buyer responsible fully insured. Worldwide shipping available.