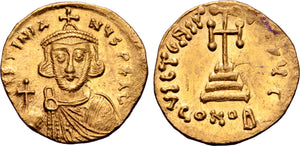 ID0\2552
Description
Justinian II, First Reign, AV Solidus. Constantinople, AD 687-692. D IЧSƮINIANЧS PЄ AV, facing bust with short beard, wearing crown and chlamys, and holding globus cruciger / VICTORIA AVϚЧ I or Γ(?), cross potent on three steps; CONOB in exergue. MIB 6; DOC 5i (I); Sear 1246. 4.48g, 19mm, 6h.

Grade
Near Mint State.

Provenance 
From the inventory of a UK dealer.

Extra Notes

The officina letter at the end of the reverse legend could possibly be a gamma which would be an unpublished officina for this type, or there could be a die break on an existing officina I
Returns & Shipping 

Returns accepted 14 days at the buyers expense. Worldwide shipping available.