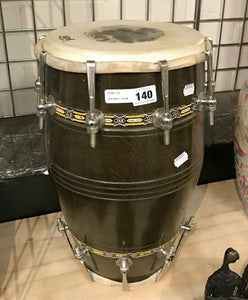 The JAS Dholak Nut Bolt Type Drum.
The Best quality JAS Brand Dholak / Dholki Drum for Weddings, Mehndi, Kirtan and all other social ,cultural ,religious and spiritual occasions.
The Best Quality Treble and Base heads are fitted along with good quality steel chrome plated turnbuckles to tune the heads. Made of Good quality treated and seasoned wood. Smooth and soft playing. Also Long lasting.
Following further research online i believe ive identified this drum correctly.
Condition is "Used" good condition throughout no damage.
Size
Height 43 cm
Wideth 23 cm
Returns and shipping
Returns accepted 14 days ,worldwide shipping available.